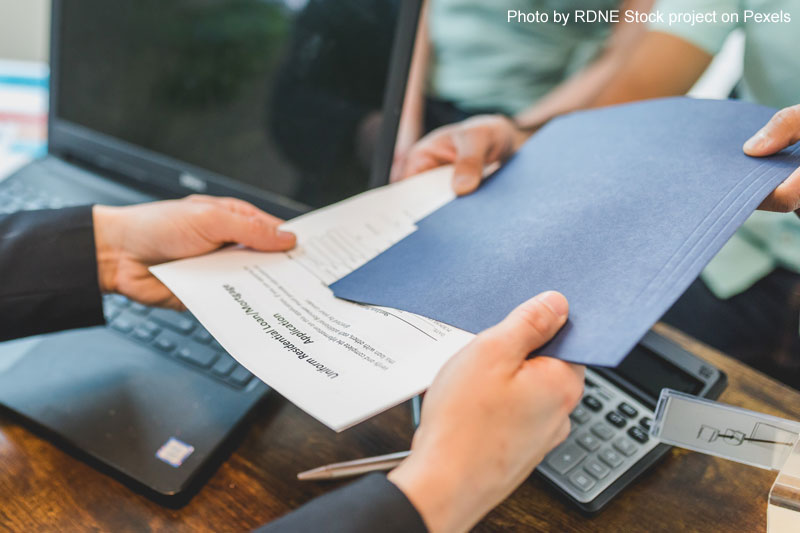 Securing a home loan is a complex process that includes many details. For some, the process itself can be stressful, but it often helps to be prepared. Knowing what to expect can relieve some of the uncertainty and anxiety. It can also help you prepare your documentation, speeding up the process.
The home loan process has four steps or phases, each of which may require different documentation. These steps include:
Mortgage pre-approval: While obtaining a pre-approval isn't technically required to purchase a home, it can greatly increase the likelihood of your offer being accepted when you find the right one. Additionally, if a seller receives multiple offers, they are more likely to go with the buyer that has pre-approval since this indicates that the buyer will likely be approved for the loan. The pre-approval process commonly requires the following documents:

A valid state-issued photo ID or passport
Two years of tax returns and W-2 forms if employed by a company. If self-employed, you will likely have to provide a profit and loss statement and federal tax statements for the previous two years.
Thirty days of the most recent pay stubs or a profit/loss statement
Two months of financial statements for all accounts you hold, including checking and savings accounts, investment accounts, and retirement accounts such as a 401k, IRA, Roth IRA, and 403(b)
Any additional documentation that may be required for your unique situation. This may include a mortgage gift letter (if someone is gifting the down payment), bankruptcy discharge paperwork, a divorce decree, a pension statement, Social Security or disability statements, and HOA statements.

Loan application: Once you have identified the home you want to purchase, you can officially start the loan application process. This requires compiling more documentation than you did for the pre-approval process. This documentation can be broken down into seven categories, which serve as a mortgage loan documents checklist:

Employment: You will need to provide the name and current contact info for your employer, length of time with them, position or title, and salary, which includes commissions, bonuses, and overtime pay.
Income: Income documentation includes two years of W-2s (or profit/loss stamen if self-employed), pension or Social Security information, any public assistance you receive, and child support or alimony details.
Assets: You must provide information about your bank and investment accounts, real property holdings, proceeds from the sale of your current home, and details about any funds being gifted.
Debts: Debt information required for securing a mortgage includes details about your current mortgage, liens, alimony and child support payments, car loans, credit cards, and real property payments.
Property Information: The underwriter will also need details about the property you intend to purchase, including the address, expected sales price, the type of home, property size, annual property tax liability, HOA fees (if applicable), and the estimated closing date.
Financial issues: If you have any past issues with your credit report, you may have to provide additional information about the circumstances. This includes bankruptcies, collections, foreclosures, and delinquencies.
Type of mortgage: You must provide information about the type of mortgage you want. Each type has different benefits or drawbacks, and it may be a good idea to research the options before starting the mortgage lending process. Examples of types of mortgages include government-backed ones, such as HFA, VA, and USDA mortgages, fixed or adjustable, conventional, and jumbo.

Loan processing: During the loan processing phase, the processor will gather all the information provided, organize it, and complete the package for the underwriter. During this phase, the processor may also obtain your credit report (if it hasn't already been done), verify employment and bank deposits, and order the property inspection, appraisal, and title search.
Underwriting: The underwriter will review the entire file and ensure that you meet all eligibility requirements for the type of loan you are seeking. Additionally, they review your credit history and capacity to repay the loan. Underwriters are also looking for any red flags that may indicate fraud. Therefore, if they need any additional documentation during this time, they may request it from you.
If the underwriter approves your mortgage loan, you may move forward and close on the transaction. Though this process is complex – and can be intimidating – keeping this mortgage loan documents checklist handy throughout the process will keep you prepared no matter where you are in the home-buying process. For more information about preparing mortgage loan documents, contact Mortgage News Channel today!
At 7th Level Mortgage, we are an experienced team of mortgage professionals based out of New Jersey and serving the east coast from Pennsylvania to Florida, including Delaware and Maryland. We have won numerous awards for our excellent professional work and reputation with clients for being extremely diligent, accessible and hands-on throughout the entire mortgage process.