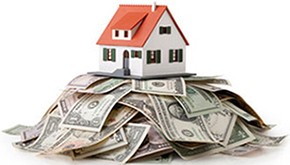 If you're planning to buy a home but have limited down-payment funds, 2015 might be your lucky year as two new programs were recently announced and offer funding up to 97% of the total purchase price. This means home buyers are allowed to make a down payment with as little as 3%.
Just recently, two mortgage-banking giants, Fannie Mae and Freddie Mac, announced that they would start accepting mortgage products with loan-to-value (LTV) ratios up to 97%. Fannie Mae's program is set to start in December and extend through 2015. While Freddie Mac's program, known as "Home Possible Advantage", will be available for home loans with settlement dates on or after March 23, 2015.
The 97% Mortgage Financing Is Back
Lenders started to offer 97% funding on mortgage loans during the days when the housing boom in the U.S. was at its peak. Some lenders even started to offer financing up to 100% just to get more borrowers interested and increase their loan volume.
Suddenly, a full-scale market crash in the housing industry happened and came right after the mortgage foreclosure crisis and lenders started asking for higher credit scores and larger down payments to reduce the overall risks to the banks. Lenders suddenly wanted home buyers to invest more up front and the rarity of the 97% financing programs steadily increased.
Fannie and Freddie Are Here
Fannie Mae and Freddie Mac announced this year that they would be offering 97% mortgage loans. This offer coming from the two corporations that basically form the secondary mortgage market bring a change that could significantly affect a great number of home buyers going forward.
"Our new 97 percent LTV offering is simply one way we are working to remove barriers for creditworthy borrowers to get a mortgage." – Bon Salle, Fannie Mae Executive Vice President.
An important part of that quote is Creditworthy. A higher LTV opens lenders to greater risk so the credit profiles of borrowers will be greatly scrutinized and borrowers with a less than impressive credit score might not qualify for the 97% home loan or might not qualify for any financing at all.
Fannie Mae would require first-time home buyers, meaning someone who has not owned a house in the past three years; to be listed as one of the names under the mortgage application with this higher LTV product.
Freddie Mac would still open the 97% financing program to repeat buyers given that they do not have any individual or joint ownership interest in other residential properties during the time of purchase.
These loans would have a fixed interest rate and Adjustable Rate Mortgages or ARMs would not be allowed as part of this new program. The loan term additionally cannot go higher than 30 years and a full income investigation would be performed by the lenders that offer this program to reduce the risk.
FHA: An Alternative Option
The Federal Housing Administration (FHA) offers home buyers with more limited budgets down payments as little as 3.5% down when purchasing a home but will have to pay extra for mortgage insurance. Some form of mortgage insurance is always required whenever the LTV ratio rises above 80% which is always the case for either conventional or government-backed loans unless the down payment is sufficient to cover that program limitation.